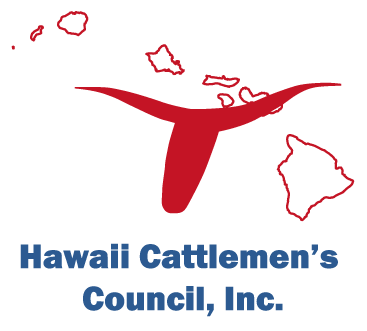 About HCC
The Hawaii Cattlemen's Council, Inc. (HCC) is the Statewide umbrella organization comprised of the four county level Cattlemen's Associations. Our 150+ member ranchers represent over 60,000 head of beef cows; more than 75% of all the beef cows in the State. Ranchers are the stewards of over 750 thousand acres of land in Hawaii, or 20% of the State's total land mass. HCC is also unified with the National Cattlemen's Beef Association (NCBA), so by joining HCC you are also joining NCBA, as well as your county cattlemen's association.
Why Do We Exist
HCC's goal is to provide every cattle producer in the state the best opportunity to be both sustainable and profitable. We also believe in grass-roots leadership where every producer's voice is important in establishing policies and direction for our industry both locally and nationally.

While we have always respected and valued the individuality and independence of our fellow producers, we also understand the added effectiveness and strength that comes from working together, sharing information and technology, speaking with one voice in public forums, and ever more so to move and market our product cooperatively with our fellow ranchers.
That is why we exist. That is why we need the broad involvement of our industry.
The Bottom Line

PLEASE JOIN HCC AND NCBA TODAY. IF YOU ALREADY BELONG, PLEASE SPREAD THE WORD TO YOUR FELLOW PRODUCERS.
Together, we have done much to help the cattle industry, and we will continue to work to make Hawaii a better place for you, your family, and your ranch. Your issues are our issues. We need the participation and guidance from all of our Beef Producers.

Sign up or renew membership
There are two ways to become a member - use our online form, or print and mail in the paper form. For Producer Members, "head of cattle" is defined as "all weaned cattle owned or pastured in Hawaii." Please contact us at [email protected] if you have any questions.