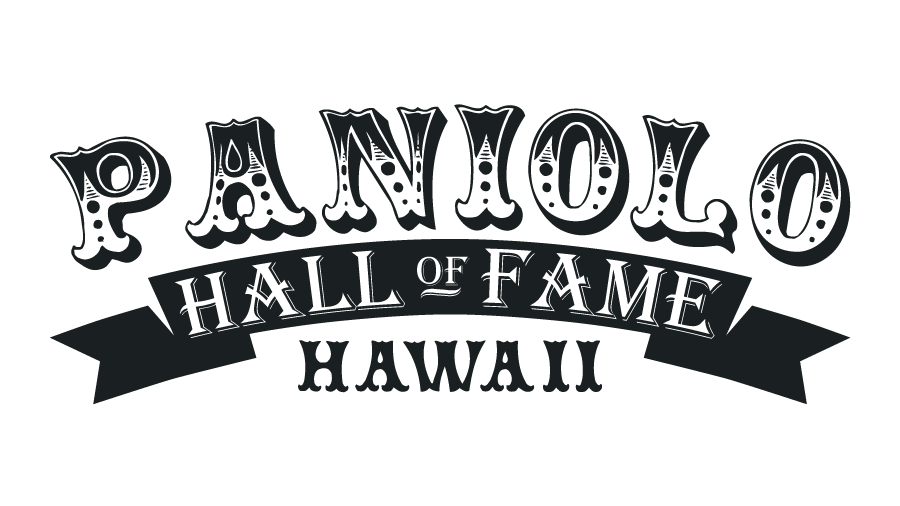 Welcome to the Paniolo Hall of Fame!
The Paniolo Hall of Fame was initiated by the O`ahu Cattlemen's Association in 1999 to recognize yesterday's and today's paniolo statewide who have contributed to keeping Hawai`i's paniolo heritage alive, and to honor those who made the paniolo culture legendary. In late 2017 the Paniolo Hall of Fame incorporated into its own 501C(3) non-profit corporation.
Now in its 23th year, including our 2022 inductees, there are 166 members, both living and deceased, in the Paniolo Hall of Fame. All of the islands are represented by its members.
All of these paniolo are selected through a nomination process. The Paniolo Hall of Fame mails out the criteria and nomination forms annually. Anyone may request and submit a nomination form.
The Paniolo Hall of Fame presently consists of photo portraits, short biographies and oral history interviews. The portrait exhibit has been on display at Honolulu Hale (City Hall), at the Annual Statewide Paniolo Festival, at the Hawaii Cattlemen's Council annual meeting, at Parker Ranch Museum, the Hawaii State Library and numerous events and venues on all the islands. It continues to circulate to various locations statewide and may be requested by contacting Paniolo Hall of Fame. The Paniolo Hall of Fame is on permanent display at the Paniolo Preservation Society's museum at Pukalani Stables, Waimea Hawaii.
Hawai`i's surviving paniolo are among a long and colorful chapter in Hawai'`i's history that should be preserved. The Paniolo Hall of Fame Oral History project presently consists of 72 completed interviews with living Paniolo Hall of Fame members. The objective of the interview project is to capture and record the life stories of as many paniolo as possible, before they are lost to future generations. Contributions from businesses, individuals and foundations make this project possible.
The published interviews are available for purchase, and are also accessible through the Hawai`i State Library System. Go to the Inductees page to view inductee bios and interviews online.

The Paniolo Hall of Fame is grateful for the cooperation of the many paniolo scattered throughout these islands, their families, and the many sponsors big and small, who have made the Paniolo Hall of Fame possible.

Mahi Pono
Hawaii Meats
HEMIC Foundation
Matson Navigation Company
Pacific Airlift
Ulupalakua Ranch
Parker Ranch
American AgCredit
Peter Baldwin
Haleakala Ranch
Ponoholo Ranch
Jacey Waterhouse
Jimmy Gomes


Order Books
There are two ways to order books and support the Paniolo Hall of Fame.
Use the Online Order Form or print and mail the Mail In Order Form.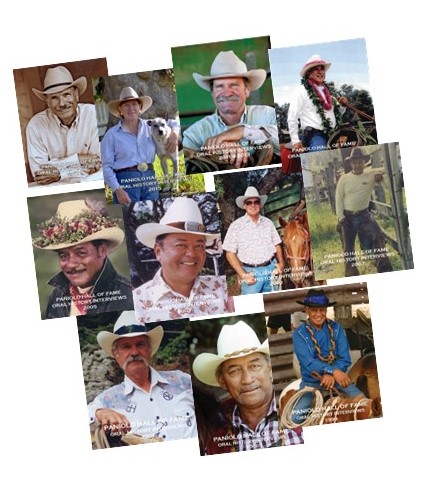 ORAL HISTORY INTERVIEW BOOKS | $35.00 EACH
2019 ORAL HISTORY INTERVIEWS - Alex B. Franco | James A. Gomes | Merton G. Kekiwi | Richard M. Schultz II| Clarence Stanley Rapoza | Harriet "Haku" Baldwin | James Kaleima'ema'e "Palaika" Brighter | Adam Scott Hai Sr. | Ephraim Palaima Hai | John Kalaniopu'u "John Samoa" Lekelesa | Michael N. Purdy Sr.

2017 ORAL HISTORY INTERVIEWS - Arthur Morgan Brown III | Robert Leighton Hind III | Jacqualyn Pacheco | Henry F. Rice | Henry "Harry" Alexander Baldwin Henry Perrine Baldwin |Samuel Alexander Baldwin | Leonard Radcliffe "Rally" Greenwell | William Herbert Shipman
2015 ORAL HISTORY INTERVIEWS - Lani Cran Petrie | Gregory C. Friel | Henry Edward "Bud" Gibson | Charles Kaleoaloha Kahaleauki, Jr. | Godfrey Kahelelani Kainoa, Sr. | Walter Boteilho Sr. (Bio) | Thomas Weston Lindsey (Bio) | Henry Lulu Rafael (Bio) | Glenn Michael Souza (Bio)
2011 & 2013 ORAL HISTORY INTERVIEWS - Donald G. DeSilva | Clarence Medeiros Sr. (Bio by Dr. Billy Bergin) | Gary J. Rapozo | Harry "Pono" von Holt | James S. Greenwell | William F. Jacintho | Francis Napua Poouahi
2009 ORAL HISTORY INTERVIEWS - Kenneth "Blackie" Freitas | Karin Haleamau | Arthur Lorenzo | Charlie Onaka | Roy Allen Wall Jr.
2007 ORAL HISTORY INTERVIEWS - Peter Baldwin | Corky Bryan | Carl Carlson | Tommy Kaniho | Jerry Louis Sr. | Jack Midkiff | Daniel Miranda (Bio) | Bobby Napier | Gene Olivera | Clayton Tremaine Sr.
2005 ORAL HISTORY INTERVIEWS - Tony Jose | Robert Keakealani Jr | Joseph P. Manini | Alfred Medeiros | Martin Ikua Purdy Sr.
2003 ORAL HISTORY INTERVIEWS - Charlie Kimura | Gilbert Medeiros | Barbara Nobriga | William "Billy" Paris | Frank Silva
2002 ORAL HISTORY INTERVIEWS - Carl "Soot" Bredhoff | J. Gordon Cran | Sherwood Greenwell | Edmund Hedemann | Joaquin Joseph Jr. | Mikio "Miki" Kato | Edward "Eddie" Silva | Walter A. Slater
2001 ORAL HISTORY INTERVIEWS - Willy Andrade Sr. | James "Casey" DeSilva | William "Bill" Eby | Willy Gomes Sr. | James M. Greenwell | Andrew P. Kauai Sr. | Yutaka Kimura | David "Buddy" Nobriga | Paddy Pauline | Henry A. Silva
2000 ORAL HISTORY INTERVIEWS - James Duvauchelle Sr | Kingo Gushikuma | Kimo Hoopai Sr. | Freddy Rice Jr. | Monty Richards Jr. | Eddie Taniguchi Jr.
1999 ORAL HISTORY INTERVIEWS - George A`i Sr. | Harold Aiu | Abraham Akau, Sr. | Ron Brun | Kapua Heuer | Martin Knott Sr. | Albert H. Silva | Max B. Smith DVM
Members BOOK 1999-2002 or 2003-2007 | $50.00 EACH
Author's Forwards